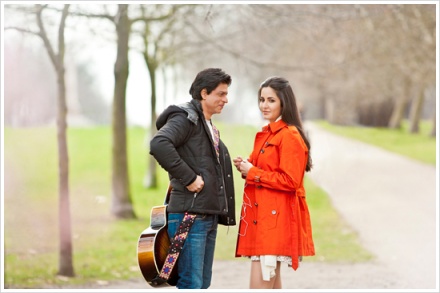 Shahrukh Khan and Katrina Kaif's romantic film being directed by Yash Chopra finally seems to have got a title. It is Yeh Kahan Aa Gaye Hum, a title one would love to croon.
The title does ring a bell, and one needn't jog one's memory to figure out that it's a lovely phrase from the popular Silsila song featuring Amitabh Bachchan and Rekha. The title Yeh Kahan Aa Gaye Hum for the Shahrukh-Katrina film may take some time getting used to, but it is believed that Yash Chopra was not happy with the other titles under consideration.
Earlier it was rumoured that the film is titled London Ishq, but the rumours were summarily scotched by YRF. It is also being reported that another title Jai was also among the possible hot picks, but that too didn't catch the veteran Chopra's fancy.
Finally, it is a line from the song of his own film that seems to have satisfied Yash Chopra. Moreover, with Shahrukh Khan, Katrina Kaif and Anushka Sharma in the principal roles, the film might be a complicated love story a la Silsila.
A confirmation about the title is still awaited from Yashraj Films. The film is being shot in London.