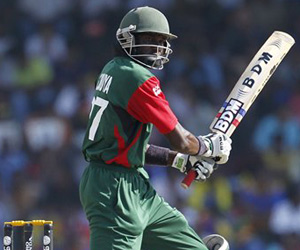 NEW DELHI: In a battle of minnows, Kenyan skipper Jimmy Kamande won the toss and elected to bat in their Group A match against Canada at the Feroz Shah Kotla Stadium in New Delhi. Kenya made one change, replacing Peter Ongondo with Thomas Odoyo.
Languishing at the bottom of the points table, both Kenya and Canada have pride at stake as they lock horns in a battle of minnows in a Group A match of the cricket World Cup here at Feroz Shah Kotla stadium.
Both Canada and Kenya have nothing to take home from the sub-continent as the two non-Test playing nations have lost all three of their World Cup matches.
Teams:
Kenya: Jimmy Kamande (captain), Maurice Ouma(WK), Sern Waters, Collins Obuya, David Obuya, Steve Tikolo, Tanmay Mishra, Thomas Odoyo, Nehemia Odhiambo, Elija Otieno, James Ngoche.
Candada: Ashish Bagai(captain and WK), Rizwan Cheema, Ruvindu Gunasekera, ZE Surkari, Jimmy Hansra, Tyson Gordon, John Davison, Harvir Baidwan, Parth Desai, Henry Osinde, Balaji Rao.
Umpires
Asad Rauf (PAK)
Billy Doctrove (WIS)
TV umpire
Bruce Oxenford (AUS)
Match referee
Ranjan Madugalle (SRI)