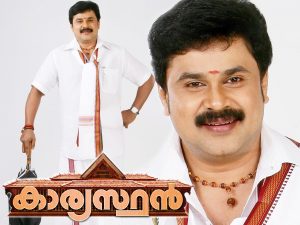 For the last one month, the Kerala Box-office has been booming as Rajinikanth's Enthiran continues to rock. The film is doing extraordinary business all over Kerala and is the clear number one at the KBO.
In Ernakulam, Enthiran has taken a distributor's share of Rs 54 lakhs, which no Malayalam film has done in recent times. In Chalakudy, a comparatively small station, the film has got a share of Rs 12 lakhs!
The trade feels Seven Arts – who distributed the film – will get a share of Rs 7 to 8 crore from the state!
At number two is Dileep's Kariyasthan which released for Diwali (Nov 5) and is being appreciated as a rollicking comedy. From 72 stations, the film has taken a share of Rs 1.65 crore in its first week, and is maintaining the tempo in the second week.
In third position is Elsamma Enna Aankutty. Made on a shoe string budget of Rs 1.75 crore, the film will do Rs 3 crore from theatricals. A super hit, it has taken a share of Rs 25.5 lakhs from Ernakulam in 35 days.
At number four is Pranchiyettan and the Saint, which can now be classified as a super hit doing extraordinary business in Thrisur and Ernakulam.
And in the last position is Prithviraj's Anwar, which after a great opening fizzled out and can now be considered as an average grosser.