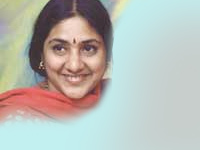 Rohini seems to be following the path of her contemporaries like Suhasini and Revathy.
She will be seen soon in the director's seat. She has completed the script of her debut movie in Tamil and the shooting will be starting soon.
Says Rohini: "My film Pambaram is a story about the life of a 13 year old boy who goes to Mumbai from a remote village to earn for his living".
Rohini is confident about her directorial venture since she has directed short films and documentaries.
The film will have new faces. She is planning a workshop and the artists will be finalised only after that. Film will be shot near Kanchipuram and Mumbai.