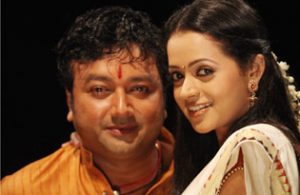 Very few comedies have the ability to make you smile from start to end. That's one of the reasons why most comedies have proved tragedies in the recent years. A joke here and a gag there isn't enough to make you go for a movie promoted as a non stop comedy. But debutante director Kiran's 'Kudumbasree Travels 'is one such movie that manages to maintain a smile in the face of the viewer from its start to the end. A rather light hearted movie  with a simplistic storyline, the movie makes you grin without resorting to buffoonery.
Kiran who is also is in charge of the script lines takes you to the village of chithirapuram with its share of assorted caricatured characters.The protagonist of the movie, Aravindan is a chakiyarkoothu artist hailing from a tharavadu of koothu artists. He is in the lookout for a girl to marry, but in one condition. She must be a Nangiarkoothu artist. After much search Aravindan finds one in Aswathy, a city girl hailing from Mullassery family and the marriage is fixed. Aravindan's uncle Chachu is prepared to go to any extent to get his daughter Vasumathy, married to Aravindan and makes plans to somehow make this a no deal. The marriage crew sets off for the function in a bus named 'Kudumbashree Travels', which thereafter is a prominent figure in the entire story.Adding more twists to the tale and travel is the entry of Hemalatha (Radhika) into the same bus with a bomb set in her suitcase. The rest of the movie mostly happens in the bus.
Kiran and Thomas Tthoppilkody have been able to interestingly weave a story around simple incidents which keeps your interest alive in most parts.They inject quality humour in every situation relying on humorous lines and one-liners and the dialogues are enjoyable at most times.  Serious moments?. Don't look for it here. The highlight of the flick is that it's not heavy on your mind, even though there's ample drama happening every now and then. But everything is presented without going overboard.
In the acting side, every actor delivers a sparkling performance, but the show belongs to Jayaram, who in his new looks without moustache, makes a controlled but impressive presenatation as a commoner. Bhavana as Aswathy is also admirable. Radhika, Manianpillairaju, Jagathy Sreekumar and K P A C Lalitha are also delightful than usual. The technical side is also impressive with Murali Raman and V T Sreejith doing good jobs in camera and editing. A couple of songs by Bijipal are passable while the BG scores are more impressive.
On the whole, 'Kudumbasree Travels' is a time-pass fare which offers an interesting watch. Expect no glitz-n-glam or serious logic here, but if you want to spent a few relentless hours without taxing your brain ,then this may well be your film for the weekend..