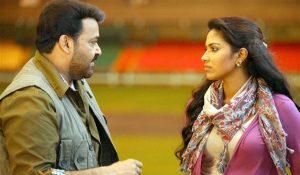 Director Joshiy's Lailaa O Lailaa makes you feel cheated. Despite having all the resources at their disposal, what you are given finally is close to three hours of sheer boredom. Nothing else!
Jaimohan aka Jai(Mohanlal) is a secret agent who is in Bangalore to foil the designs of a terrorist group. Being an undercover agent he can't reveal his identity or job to anybody. He is a divorcee and his wife Remya(Remya Nambeesan) left him because she found him too workaholic. Jai later becomes close to Anjali Menon(Amala Paul) and after a brief romance marries her against the wishes of her father Dr.Menon(Joy Mathew). Jai reports to his boss Khadher(Sathyaraj)and the investigations process goes on in a clandestine manner.Clever and timely action by Jai results in the nabbing of Victor Rana a kingpin of the terrorist group and a dreaded international terrorist.
Romantic scenes are sandwiched between Jai's operations and official life.Just like any newly married wife Anjaly seeks quality and quantity time of Jai,which he fails to provide. His secretive ways evoke suspicion in her and disharmony settles in their married life. Jai is duty bound and is not one bogged down by sentiments. The title of the movie has some significance and it is linked to the plot of the terrorist group. Jai manages later to convince Anjaly about his job and other exigencies. She falls in line and 'Laila O Laila' holds a small surprise for the viewer with regard to Anjaly in the eventual dénouement.
Action and shoot out scenes are well shot and car chase sequences are well canned. Suresh Nair flounders in the script mainly because of the fact that the plot is wafer thin.We have seen too many movies in this genre and the mixing of thrills and romance hasn't worked out well enough to endear to the general audience. Loud background score that lacks novelty and average songs don't help the cause of the movie either. But Loganathan has done a fair job behind the camera.
In a role, which would have been okay for him if he were some twenty years younger, Mohanlal tries to do his best but this one has been poorly written and is aimed at creating cheap thrills.
The usually dependable Amala Paul looks lovely, but the film doesn't require her to so much as break into a sweat to get through her scenes. She has good screen space but that's all is not enough to make the character interesting.
It's a pity that such eminently talented actors like Mohanlal and Amala Paul are wasted in this misadventure. Watch this one at your own risk please.