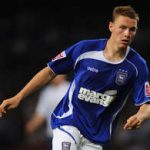 Liverpool boss Roy Hodgson will look to nab highly rated 17-year-old Connor Wickham from Ipswich.
According to reports in the Daily Mail, John Henry is planning to splash the cash for Wickham. The striker has been coveted by Arsenal, Chelsea, and most recently Tottenham Hotspur, but Ipswich have held firm to their prized asset.
Harry Redknapp was prepared to pay out £8.5m based on appearances, but Liverpool are prepared to trump that with a £10million bid, which could influence Roy Keane's decision whether or not to sell the player.
What could tip the bid in Liverpool's player is the fact that Wickham is a fan of the Anfield club, and an enthusiast of Fernando Torres, and it would be a dream move for the teenager.
However, worries about Wickham's physical condition could scupper the move, as he is still dealing with ankle and knee injuries, managing only three starts this season.