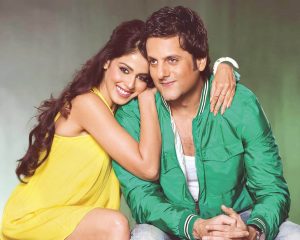 Rave reviews followed her. So also ad campaigns. Genelia D' Souza has now established herself in the highly competitive Hindi film industry after giving memorable performances in Jaane Tu … and Mere Baap Pehle Aap.
Talking about her co-star Fardeen Khan, in the recently released Life Partner, the 22-year-old actor says, "It was great working with Fardeen because we share a good rapport. He is encouraging and you enjoy working with people from whom you can learn things."
Genelia has given many award winning performances and she's an established name in Kollywood and Tollywood. "I enjoy acting and it doesn't matter whether I am doing a Bollywood flick or a South Indian one," says the actor. Does Genelia intend to act in Hollywood and is she ready to do cameos? "If it's worth playing such roles, definitely I will do it," says Genelia. "I have always given importance to scripts but now it's like a complete meal which includes director, producers, co-stars et al."
The pressure of stardom is yet to affect this young bubbly actor. Genelia "prefers to take rest if I am not working". Style and the glamour world go hand in hand. So what's her take on fashion? "I am a very casual person," she says. For the world outside, she's a cool person. But what makes her go red? "Pretentious people and people who take away credit for others' work really put me off," says the actress.
Success and a hectic lifestyle don't stop her from doing what a girl of her age does. "I do all the normal things like any girl of my age would be doing. I don't restrict myself from doing anything — be it walking on the roads, going to public places or having a blast with my friends," says Genelia.
So has she found her prince charming? "Right now I don't have any special person in my life. It's not that I want to concentrate only on my career so I am avoiding getting into a relationship. But I believe if it had to happen it will happen someday."
Genelia believes in living life to the fullest. "I take life positively. I am also very energetic". Her happy go lucky girl image has won her many fans. "The image of a chulbuli girl goes with me but I am sure of myself. I know what to do and what not to do," she says with a note of finality.