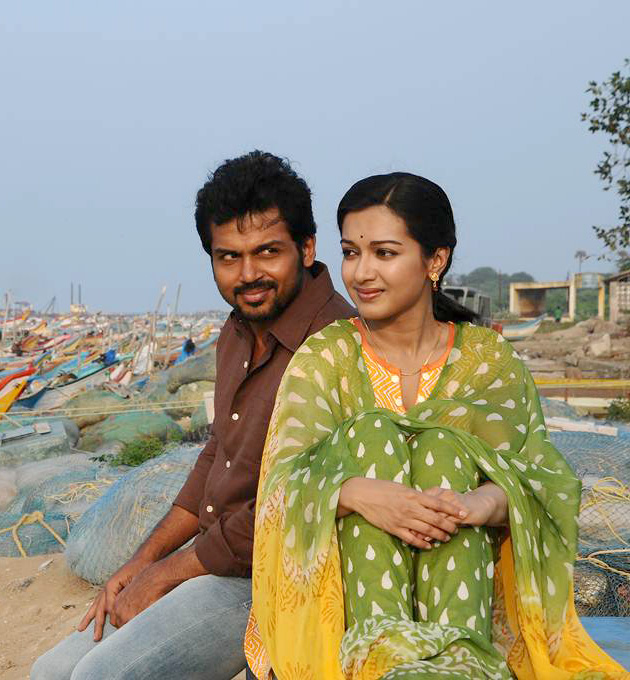 Directed by Pa. Ranjith
Produced by K. E. Gnanavel Raja, S. R. Prakashbabu, S. R. Prabhu
Starring Karthi, Catherine Tresa
Music by Santhosh Narayanan
Cinematography G. Murali
Edited by Praveen K. L.
Production company Studio Green
Distributed by Dream Factory Studio Green
About the film:
The story traces the life of a young man living in the slums (from 1996 to 2014). It talks about how the poor are still looking for solutions to the same issues that have been plaguing them for a long time: poverty, powerlessness and so on. They are engaged by the parties to work for them during elections only to be forgotten afterwards. This is the crux of this film.
Story:
After so many days, indubitably a movie that is worth watching has been released in Tamil. Karthi made it finally and the Kollywood fans have a nice weekend to enjoy with. The entire credit should be given to the Attakathi fame director Pa. Ranjith. The movie depicts the lives of middle class lives.
The entire story revolves around the wall in the middle of a housing board complex. The warfare between two warring parties on who takes control of the wall pretty much forms the witticism to the story plot. Like a general movie, this movie is also a mixture of all nine Rasas
The director's maturity and the screenplay as it moves would surely make the audience feel comfortable and get rid of their true life problems, at least for the entire time they watch the movie.
There is no doubt that the director has chosen perfect casting for the movie. Karthi in leading role has proven best of his abilities. Also, Catherine Tresa is an interesting casting selection. Catherine's no makeup looks in the first half of the movie is simply ravishing. Nevertheless, after the interval she appears to come with layers of make-up which diminishes her natural charm. Beautifully dubbing has been done for her. It gives an added beauty to her role. Santosh Narayanan's music is another attraction. Right from the director to the editor everybody has ontributed their best palpably – the same could be experienced by everyone.
The movie turns to be a worth watching movie and surely give a soothing feeling to all the audience, indubitably.