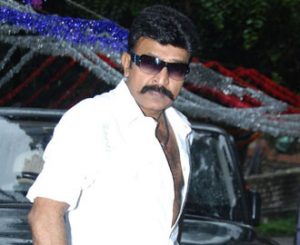 Angry Young Man Rajasekhar shot into fame with 'Ankusam'. He played hero in several films and many of his films are getting bumped off at the Box Office in recent times.
Now, he is desperate to bag a hit to remain in the Telugu film industry and cement his place among his contemporaries. With a view to elevate his present position at any cost, he had decided produce a film on his own once again and joined hands with Yeluru Surender Reddy to co-produce the movie titled 'Mahankali' wherein he is playing a powerful police officer's role.
The film is a 'free-make' of a Bollywood flick titled 'Risk'. He kept high hopes on the subject and is striving hard to achieve a hit at any cost. The shooting is presently in progress in Hyderabad.
Madhurima is playing the female lead, while Pradeep Rawat, Salim Panda, Asish Vidyarthi, Supreet, Chalapathi Rao, Jeeva, Suthivelu, Vani Viswanath and others are in the cast.
Kartikeya is directing the film, while camera is by PG Vinda and music is by Chinna.