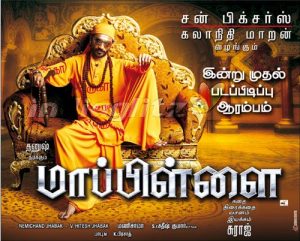 Sun Pictures and Dhanush has enough reasons to smile. Their new summer release Mappillai, has taken a super opening all over Tamil Nadu.
The mass movie is doing very well in all centres and is surely becoming the first summer hit of 2011.
Says Murugan, a dies-hard Dhanush fan: "You walk into Mappillai with 100 per cent expectations and you exit with 200 per cent ratification. Entertainment guaranteed".
Mappillai at Mayajaal multiplex on the ECR, had 33 shows per day and has collected a whopping net of  Rs 15.35 lakhs, in its opening weekend.
At the upmarket Sathyam and Inox multiplex in Chennai city, the film has taken 100 per cent for the opening weekend. Says Vivek Vettath, General Manager Inox, Chennai: "Mappillai is fantastic as we have done 100 per cent for the opening weekend".
Added Meenakshi Sundaram, Manager of Mayajaal multiplex: "Mappillai is a mass movie which caters to a large section of the audiences. Sun Pictures promotion and release strategy has paid off, along with Dhanush's performance. And with summer holidays and no opposition till April 22, the film is a sure fire hit".
Reports from screens like Albert, Thyagaraja and Kamala including areas like Madurai and Tiruchy are also positive for the film.
Says Jagadeeshan, a theatre booking agent for MR and TT: "Mappillai has tremendous brand value as it is a remake of an old Rajinikanth film. It is a typical summer mass masala ideal for our market and with no opposition till Ko on April 22, will bring the holiday season family audiences."
Trade analysts believe Mappillai is an average film report wise, but at the box-office it has taken a flying start as it is the first summer release. Now with elections getting over on April 13, and IPL not having the world cup impact, Mappillai will get a free run.
The holiday season and inimitable star power of the lead actor has audiences queuing outside cinema halls all over the state.
Says a spokesperson of Sun Pictures: "Mappillai has taken a bigger opening than Aadukalam as it had a wider release and it is a mass film, which will appeal to a wider section of the audiences".