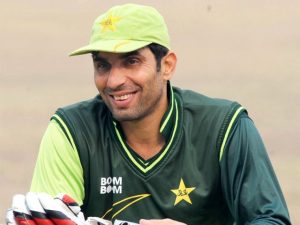 The Pakistan Cricket Board (PCB) decided to retain Misbah-ul-Haq as Test and ODI captain until the next World Cup in 2015 in order to crush apparent unrest in the national team over the captaincy issue.
Outgoing Chairman of the board, Najam Sethi said on Geo TV that there was some intrigue and politics going on in the team over the captaincy issue.
"Even the media was promoting their favorites for the captaincy and there was something going on in the team," Sethi admitted.
"That is why I decided the best solution is to announce Misbah as captain until the World Cup to end any politics and internal issues," he said.
Misbah, 40, who has led Pakistan in all formats of the game since late 2010 is not seen as a popular choice to captain in the World Cup in Australia and New Zealand by a particularly strong lobby within and outside the board which has promoted flamboyant allrounder, Shahid Afridi as a better choice to lead the side in one-day internationals.
Even chief selector and team manager, Moin Khan had at a press conference sometime back confirmed there had been discussions held on Misbah`s captaincy and on a possible change in captain.
He later denied he was speaking in specific terms about the ongoing controversy over whether Misbah or Afridi should lead the team.
"Misbah has led the side well and I thought this move would also give him more confidence and allow the players to just focus on their game and I can say things have settled down now with the announcement," Sethi said.