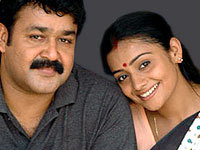 The box office failure of 'Kandahar' seems to have had an impact on the choice of Megastar Mohanlal's new commitments.
Mohanlal has signed up a few promising projects for this year including Priyadarshan's film and Sathyan Anthikkad's film. Now it has been reported that the star would be doing Blessy's new film as well.
Mohanlal had worked with Blessy twice before; once for 'Tanmatra' and then for 'Bhramaram', and the results have been spectacular. Earlier, Blessy was said to be planning 'Aadujeevitham' with Prithviraj in the lead. Now it seems that the Prithvi film might have to wait a bit.
Mohanlal is currently busy shooting for Rafi-Mecartin's 'China Town', and in March he would have his first release of the year with 'Christian Brothers'.