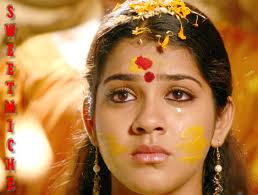 Popular South Indian actress Sandya, known as Kaadhal Sandhya, was injured during the shooting of a risky action scene for her forthcoming Malayalam film Three Kings at Athirapally waterfalls near Chalakudy, Kerala.
Director V.K. Prakash was shooting a chase scene involving Prithviraj's elder brother actor Indrajith and Sandya, who were riding a bike. Due to heavy rain, the bike skidded and both of them fell on the road.
Both actors escaped with very minor injuries, though Sandya had burn injuries on her leg as the bike silencer hit her. Doctors have advised her to take a couple of days rest. We wish Sandya a quick recovery!