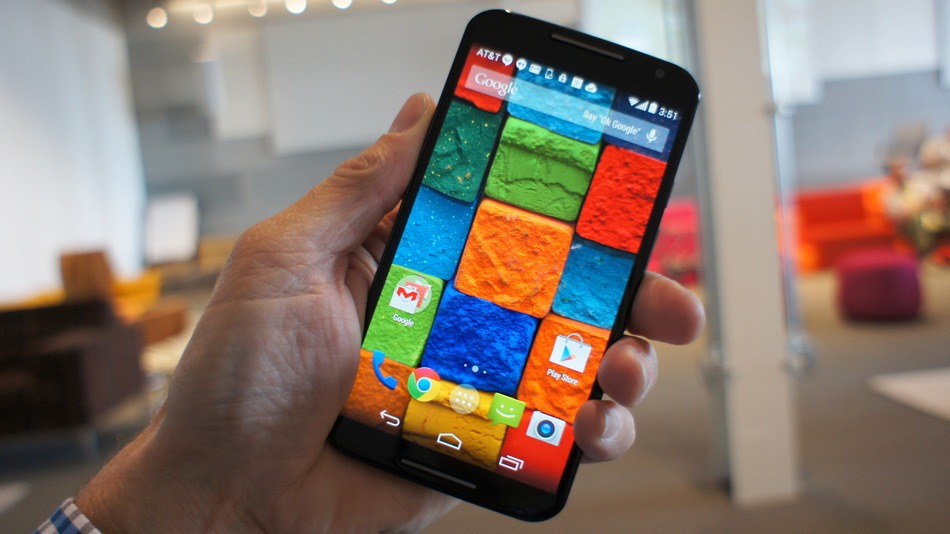 Motorola, which unveiled the Moto X and a passel of new gadgetry at a special event in its cavernous headquarters in Chicago's historic Merchandise Mart Plaza, apparently found that consumers were buying larger and larger screen phones — it's simply what they want.
At a glance, it's obvious the new Moto X is part of the X family. It has the same curved back and tapered edges and the Motorola logo appears in the same spot. Once again, there are no buttons on the face — just power/sleep and a volume rocker along the right edge.
Closer examination reveals a much larger phone, however. The original was a 4.7-inch design, and the new Moto X is almost 0.28 inch wider and over 0.39 inch taller. It also has a narrower bezel around the screen and more sharply tapered edges, which Motorola added to help the larger phone still usable for single-hand operation. It does feel pretty good, but I have a big hand, and may not be the best judge.
On the back, the camera (now 13 megapixels; the front-facing camera is 2MP) is encircled by a translucent ring that houses two LEDs. This is supposed to give flash photos a softer look. We'll need to test that to see if that works.
Motorola also swapped out the slightly cheap-feeling plastic for a new aluminum chassis that, at least around the outside edge, serves as the antenna. Despite the new metal, the new Moto X is only 0.18 ounces heavier than the last model. It actually weighs less than Amazon's smaller Fire phone (which is 5.6 ounces).