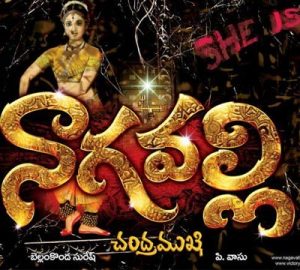 The audio of Nagavalli, a Venkatesh movie with multi-heroine presentation, was released at Shilpakalavedika, Hyderabad, in a grand manner. Produced by Bellamkonda Suresh on his Sri Saiganesh Productions Private Limited, this sequel to Chandramukhi is directed by P. Vasu.
Venkatesh, Paruchuri Brothers, Rajamouli, Anushka, Richa Gangopadyaya, VV Vinayak, P. Vasu, Gurukiran, Chandrabose, Dharmavarapu Subramanyam, Brahmanandam, Praneetha, Sradddas, Poonam Kaur, Illeana, Rana, B. Gopal, Nani, Suja, KL Narayana, Prabha, Kumar Chowdary, Sanam Naga Ashok, Krishna Prsad, Bhavana, Ramanaidu and Umesh Gupta (Aditya music) were among those who graced the occasion.
SS Rajamouli unveiled the audio CD and presented it to Puri Jagannath. Ramanaidu released the audio cassette and handed over the first number to VV Vinayak.
Bellamkonda Suresh said: "We finished the postproduction works. We are planning to release the film in the first week of December. I am happy to note that the film
Bheemudu Ramudu produced by Ramanaidu completed its 45 years today. Incidentally, he unveiled the audio of my film Nagavalli today."
P. Vasu said: "I shall be ever thankful to the audiences for making my Chandamukhi a grand hit. Absolutely, there were no expectations then. But, now for its
sequel Nagavalli, the expectations are high. Venktesh completed 25 years in film industry. He earlier acted in the film Chanti, for which I provided the
script. The film remains one of the evergreens and the audio too was considered a cool experience. Venkatesh plays a dual role as doctor and the king in Nagavalli. I hope the audiences will once again give a big patronage to this sequel."
Music director Gurukiran said: "Venkatesh is my favorite actor. So is Anushka. The movie is fantastic. I am happy to be associated with this film."
Rajamouli said: "The very look at the poster shows that the movie is going to be a blockbuster. I simply congratulate the team and wish it all success."
Venkatesh said: "My sincere thanks to all the audiences who have been giving me big support since my debut Kaliyuga Pandavulu. Nagavalli will be liked by all sections of the audiences. I am thankful to all the heroines who contributed their might for enhancing the publicity to the movie. Gurukiran provided extraordinary score."
Aditya Music is marketing the album.