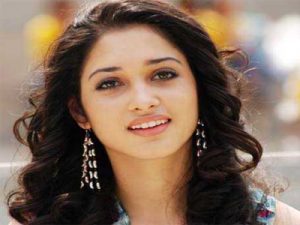 Fair beauty Tamannah made a great comeback with 100% Love that proved to be 100% hit at the Box-Office. Tamannah has already bagged big banner flicks in Tollywood and is giving hard fight for the top league actresses in South.
Here are the interesting projects of Tamannah which are in the pipeline. She has Badrinath ready for release, Oosaravelli with NTR and Rachcha with Ram Charan ready to roll on to floors. She has also been roped in as the leading lady for Ram, Karunakaran's project.
Recently, there has been a buzz that Tamannah will sport a bikini in Ram Charan's Rachcha and she is reportedly charging extra remuneration from the producer. However, Tamannah has rubbished all the rumors and said, "I will never wear a bikini or do a lip-lock scene in the film. No matter how much money is offered to me, I will never do things I am not comfortable."
So, No Lip-Locks and No bikini for Tamannah… Are the film-makers listening??