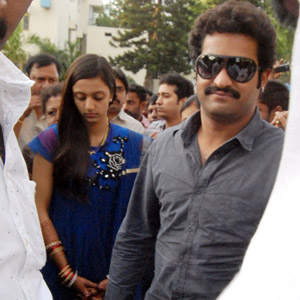 After the spectacular wedding ceremony, the newly wedded couple NTR Junior and Lakshmi Pranathi reached Tirupati on Friday for the darshan and blessings of Lord Sri Venkateswara Swamy. The couple reached the place in the evening in a special flight and large crowds of fans reached the airport to have a glimpse of their favorite star.
NTR's mother Shalini, Kodali Nani and other family members were seen along with the couple. They made their dharshan in the early hours of Saturday and made the Kalyanam of Lord Balaji. The family members are expected to be back in town on Saturday evening.
NTR will be participating in the shootings only after a couple of weeks. Meanwhile, the couple is in their plans for their honeymoon trip.