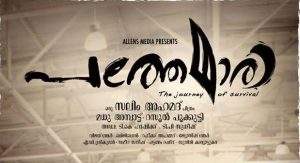 Pathemari is a tribute to each and every expatriate who sacrificed their happiness for their families. If you are looking for an entertainer, it will disappoint you. Book the tickets if you love quintessential movies.
The movie is actually the entire life of an NRI Pallikkal Narayanan. Because of the family responsibilities, Narayanan along with his friend Moideen goes to Middle East in a Pathemari. The movie basically focuses on the selfless life of Narayanan who eventually spent almost 50 years at the Middle East so that his family can survive. What all he had to go through and how everyone treats him is what Pathemari talking about.
Mammootty, as Narayanan, has delivered an amazing performance. You would really feel for this character who is caught between his own wishes and the needs of his family. Jewel Mary, as Narayanan's wife, has given a subtle yet strong touch to her character. One performance to watch out for is Siddique, who, despite very little screen time, has the most powerful lines and moments in the film.
The director, Salim Ahamed, has narrated this story with a pace and style that is now familiar to us through his last two films Adaminte Makan Abu and Kunjanandante Kada. To note are some one-liners that subtly pass through the scene, but says more than entire scenes put together. Madhu Ambat's camera holds you down from the opening shot. The opening credits of the film show you Dubai in a way you've probably never seen the Emirate before. Resul Pookutty's sound shows through, especially the portions where the sea is involved. Bijibal's score is beautiful and unobtrusive. It serves as the right backing for the manner in which the story has been told. Vijay Shankar's editing is seamless as it takes you to and fro from Kerala in the 60s and forward to the present day.
Verdict: Pathemari is an emotionally touching film which can move your heart. It's not an entertainer but film that makes you see the life some people lives on whose efforts we are depending on. A film for the people who loves class and emotional films.