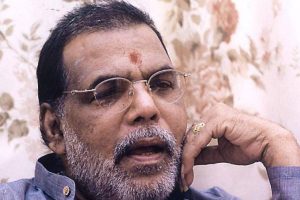 Playback singer Malaysia Vasudevan died here Sunday afternoon at a private hospital. He was 66.
He is survived by a son, V. Yugendran, and daughter Prashanthini, who are also playback singers.
He was admitted in the hospital a couple of days ago after a cardiac arrest.
The Malaysian-born Vasudeven came to India to find a career in Tamil movie world several decades ago.
His big break came in the movie "16 Vayathiniley" in which the song "Aattukutti Muttaiyittu" tuned by Illayaraja was a big hit.
Vasudevan was a Kalaimamani award winner from the Tamil Nadu government.
In a career spanning over three decades, he has sung more than 8,000 songs in different languages, of which over 4,000 are in Tamil.
Some of his big hits are: "Kodai Kaala Katre", "Ponmaana thedi naanum poovodu", "Aaagaya gangai", "Oru thanga radathil" and "Poongatru thirumbuma".
A movie producer, Vasudevan has also acted in around 85 movies, including "Oru Kaidhiyin Diary", "Jallikattu", "Mudal Vasantham" and "Povae Unnakaga".