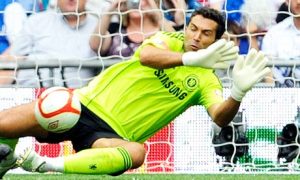 Portuguese goalkeeper Henrique Hilario announces his retirement after he was released by the English Premier League club Chelsea this season. The 38-year-old joined the Blues in 2006 on a free transfer from Nacional during Jose Mourinho`s first reign in west London outfit.
Despite making a memorable debut against Barcelona in a 1-0 win in the Champions League in 2006, Hilario spent most of his time at Chelsea as an understudy to Peter Cech. In his eight years stay, he could only start in 39 games for the club.
As a part of a successful Chelsea team, he won the Champions League, English Premier League, Europa League, FA Cup, League Cup, Community Shield. Before his arrival in England, he won two Portuguese league titles with FC Porto.
Hilario took to the social networking site Instagram to announce his retirement, "After 20 years of professional goalkeeping I have made the very difficult decision to hang up my gloves!"
"It was not a sudden or easy decision and age played no part, but I simply could not refuse the offer that CFC proposed. I now have the opportunity to not only stay in the game but to pass on my experience and knowledge to a new generation of goalkeepers," he added, hinting a possible coaching role at Stamford Bridge.