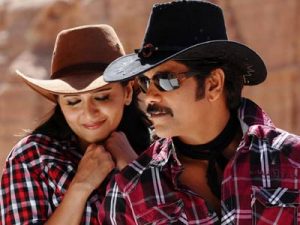 Due to the strike in Tollywood, Nagarjuna's much-awaited Ragada suffered its post-production work.
So producer D Shiva Prasad Reddy is releasing the movie on December 24th, instead of December 23 as announced earlier.
"We worked day and night to stick to the release date and finally we are able to make it but a day late. Ragada is sure to entertain the audiences this Christmas and New Year," Shiva Prasad Reddy said. The film has been censored.
Nagarjuna says the dialogues written by director Veeru Potla will be talked about for a long time after the release. "I loved his dialogues when he narrated the story for the first time. And when I saw it on screen, they are even more effective," Nagarjuna said.