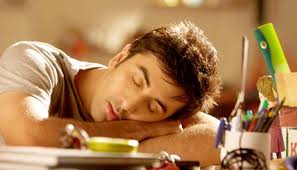 Ranbir Kapoor is an Indian film actor. He is the recipient of five Filmfare Awards, and is a leading actor of contemporary Hindi cinema. He is the son of actors Rishi Kapoor and Neetu Singh, and the grandson of actor-director Raj Kapoor. Kapoor completed his pre-university education in Mumbai, after which he moved to New York City to pursue film-making and method acting at the School of Visual Arts and the Lee Strasberg Theatre and Film Institute, respectively. He began his career in Bollywood as an assistant director on Sanjay Leela Bhansali's 2005 film Black.
Kapoor's first acting role was as the protagonist of Bhansali's 2007 tragic romance Saawariya, a box office flop for which he was awarded his first Filmfare Award—Best Male Debut. He achieved commercial success with his next release—the 2008 romantic comedy Bachna Ae Haseeno. During the film's production schedule he began a romantic relationship with co-star Deepika Padukone; the highly publicised relationship ended the following year. In 2010 he was awarded the Filmfare Critics Award for Best Actor for his performances in three films of 2009—the coming-of-age film Wake Up Sid, the comedy Ajab Prem Ki Ghazab Kahani, and the drama Rocket Singh: Salesman of the Year.
The role of a troubled musician in Imtiaz Ali's 2011 drama Rockstar earned Kapoor his first Filmfare Award for Best Actor. He played a deaf-mute man in the 2012 Anurag Basu-directed dramedy Barfi!, and won a second consecutive Best Actor Award at Filmfare. His next release, the 2013 romantic comedy Yeh Jawaani Hai Deewani, emerged as the fourth highest-grossing Bollywood film of all time and led The Economic Times to credit him as "the most bankable actor of his generation".
Alongside acting in film, Kapoor supports numerous charities and causes, is vocal about issues faced by women and is the goodwill ambassador of Shabana Azmi's Mijwan Welfare Society. His off-screen life is the subject of fervent tabloid reporting in India.
Ranbir Kapoor was born in Mumbai on 28 September 1982 to Rishi Kapoor and Neetu Singh, both actors of the Hindi film industry. He is the great-grandson of Prithviraj Kapoor and the grandson of actor-director Raj Kapoor.[3] His elder sister, Riddhima Kapoor (born 1980) is an interiors and fashion designer. His paternal cousins Karisma Kapoor and Kareena Kapoor are both actresses.
Kapoor was schooled at the Bombay Scottish School in Mahim; in an interview with The Indian Express he said that he was a "naughty kid" who was "least interested in studies and would always get punished by my teachers".[7] Reflecting on his school life, Kapoor added, "I was never a bright student, potentially never good at dramatics, I was sometimes given one-line roles that I was happy to do so that I could bunk classes. My mother used to cry three times a year and that is when my report card used to come. I always passed but was always in the bottom five and got marks in 50s." He was, however, interested in mathematics and literature, and was particularly fond of William Shakespeare's The Merchant of Venice.
The troubled marriage between his parents deeply affected him as a child. In an interview with Mumbai Mirror he recollected the fights between his parents: "Sometimes the fights would get really bad. I would be sitting on the steps, my head between my knees, till five or six in the morning, waiting for them to stop". He added that due to these experiences there was a "reservoir of emotions building up inside [him]", which compelled him to look for an outlet in films. Kapoor said that, while growing up, he was "petrified" of his father and "never had a friendly relationship [with him] because he used to stay very busy", but admitted to sharing a much closer relationship with his mother.
After completing his tenth standard examinations, Kapoor travelled to America to assist his father on his directorial debut Aa Ab Laut Chalen (1999). It was during the film's shooting schedule that he developed a closer bond with him.He subsequently enrolled at Mumbai's H.R. College of Commerce and Economics to complete his pre-university education.Upon graduating from high school, Kapoor moved to New York City to learn film-making at the School of Visual Arts and later pursued method acting at the Lee Strasberg Theatre and Film Institute.He said that living alone in New York on a "shoe-string budget" taught him "the value of family and money".
In New York City, Kapoor directed and starred in two short films (entitled Passion to Love and India 1964), and spent most of his time watching world cinema.He professed that the experience of learning about movies at a film school was "almost useless" and preferred being on an actual film set.He, thus, worked as an assistant director to Sanjay Leela Bhansali on the 2005 film Black. He described the experience: "I was getting beaten up, abused, doing everything from cleaning the floor to fixing the lights from 7 am to 4 am, but I was learning every day."In an interview with CNN-IBN, Kapoor confessed that his main motive for assisting on the film was to ensure that Bhansali liked him enough to cast him as an actor for his next project.
Kapoor had his first serious relationship while in the seventh grade. He said, "I was really naive then. I didn't understand love. When that relationship ended I went into depression. I thought I would never fall in love again. Now I think I've become more realistic about love. Love is a beautiful feeling. It almost equals cinema in my list of passions."Having learnt from his parents' troubled marriage, he says that he doesn't believe in a "rose-tinted illusion of love", and is aware of "how complicated a relationship between a man and woman could be."
While filming for Bachna Ae Haseeno in 2008, Kapoor began a romantic relationship with co-star Deepika Padukone.The relationship, which attracted substantial media coverage in India, ended the following year.Kapoor has maintained that his split with Padukone was amicable, and has since refrained from divulging details of his personal life. Tabloid reports have since romantically linked him with several women; Kapoor has categorically denied to speak about these reports (he has termed his "playboy image" as a "gross misrepresentation") but said, "I am not saying that everything is untrue but what is written is exaggerated and glamorized."In August 2013, a set of paparazzi photographs were published by Stardust showing Kapoor and Katrina Kaif at a beach in Spain; the press interpreted this to be proof of a relationship between Kapoor and Kaif.
Kapoor is vocal about issues faced by women, and supports the empowerment of the girl child; he is the goodwill ambassador of Shabana Azmi's Mijwan Welfare Society, an NGO which helps empower women.He supports environmental charities, and in 2011 donated money to the Community Water Initiative, a charitable organisation owned by PepsiCo.In 2012 he appeared (alongside Arjun Rampal and Farhan Akhtar) in a short film by Zoya Akhtar to generate awareness on breast cancer.He is the campaign ambassador for NDTV's Marks for Sports, a nationwide initiative to promote fitness and health in India.
Kapoor is a soccer enthusiast, and is the vice-captain of the All Stars Football Club, a celebrity soccer club that raises money for charity.In March 2013 he played the game to raise funds for the Magic Funds Organisation, an NGO for underprivileged children.That year he participated in an auction on eBay, where the highest bidder gets an opportunity to interact with him; the proceeds were donated to Save the Children, a non-profit organisation that raised funds for flood affected households in Uttarakhand.