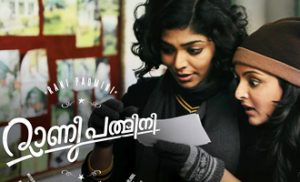 Director Ashiq Abu takes up the gamble of making a film with no male superstar.
Rani Padmini is a film made with his wife Rima Kallingal and Manju Warrier in the title roles. They play two contrasting women brought together by fate.
Padmini is from this conventional Malayali backdrop and she is married to Giri, an automotive enthusiast and a rally champion settled in Delhi. The issues with the mother in law and the lack of care from husband have put Padmini in a difficult situation. The short tempered Rani has the responsibility of her small family comprising of mother and grandmother. The need for care and the need of money force both of them to go to the Himalayas. What happens in that journey and how it changes their life is what the movie talking about.
In fact, the main contribution in the film has been made by cinematographer Madhu Neelakantan and musician Bijibal. The frames are so magical that you will be tempted to pack your bags and go for a trip to Himachal Pradesh or Chandigarh, straightaway. But that can barely be a reason to spend your time watching this film and that too, for just above 140 minutes.
The script by Shyam Pushkaran and Ravi Sankar is amateurish, to say the least. Aashiq Abu gives an impression that he is all set to narrate a spectacular story during the first half but tests your patience in the second half.
What is the message that this one gives in the end? That your husband is your only hope in life, however ignored you are, in your married life?
When it comes to the performance, Manju warrier once again showed that years may come and go she still has in her that can make her the best in mollywood in terms of acting. Rima Kallingal was stunning as well as he really stood up with Manju warrier and at certain times she looked more convincing than Manju's character. Artists such as Jinu Joseph who played the husband character named Giri of Manju's Padmini, Sreenath bhasi who played one of the truckers in himachal, Soubin shaheer and Dileesh Pothen who played the channel reporters, and the gangster team, done their part to perfection which made the film all the more enjoyable.
Ashiq Abu had done it this time with a classy entertainer and you will not forget rani and padmini after coming out from the cinema halls.