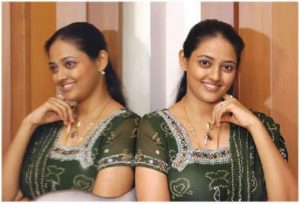 Tamil actress Renjitha who disappeared from the scene after Swami Paramahamsa Nithyananda Sacandal, will be soon seen in
Malayalam. She will be seen soon in 'Puthumughangal' in which she has played the role of the teacher to the six
protagonists in the film.
The actress shot for this film much before the controvercial videos surfaced. Renjitha is a known name in Mollywood with
hit movies like 'Yathramozhy', Johny Walker, Sindhoora Rekha, Mafia and 'Kaikkudanna Nilavu'.