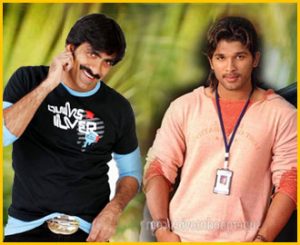 Raviteja's forthcoming film 'Veera', which took a long time to complete its shooting, is now getting ready for release very soon. At the same time, Allu Arjun's latest film 'Badrinath' directed by VV Vinayak and produced by Allu Arjun on the banner of Geeta Arts is also getting ready to hit the screens by the end of May.
While 'Veera' is a routine mass masala entertainer with comedy and action in its backdrop, Allu Arjun's film is based on a socio-fantasy subject.
The audios of both the films were launched one after the other and the huge budget and the promos of Badrinath became a cause of anxiety to the producers of 'Veera'.
Fearing that the profits of 'Veera' would be hit with the release of 'Badrinath', Ganesh Indukuri, who had produced 'Veera' on the banner of Sanvi Productions is busy wrapping up the post-production formalities and is planning to release the film on May 20, a week earlier to 'Badrinath' release, as one week would be enough to get back the expenses of the film.