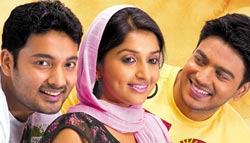 Pookkalam vannu….., Unnam marannu….., Pavanarachezhuthunnu……Gulumaal…, Neerpalunkukal……
Some of the biggest musical hits of the last decade in Mollywood started with these lines. But how many Malayalees who regularly hum these songs and remember its music director S Balakrishnan?
The talented musician who rode the success lane with the director duo Siddhique – Lal in his first five hits was not in picture for quite some years after the separation of the famous directors. A man of humility who never knew the art of grabbing opportunities, S Balakrishnan gradually went unnoticed in the entire last decade, though his songs were regular hits in various FM's.
But now after years from his last flick, S Balakrishnan is back to composing music for East Coast Vijayan's latest movie 'Mohabbath'. The love story featuring Meera Jasmine and Munna will have five songs by S Balakrishnan, which are already climbing the hits charts. The songs 'Padachavane, Ivalenthu Sundhariya' is already tipped to be the biggest hit of 2011.The movie will also feature songs in the voices of Mamtha Mohandas and Hariharan.