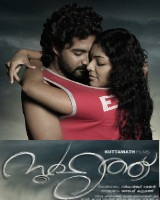 Though 'Tournament' is not having an inspiring run at the Box Office, its lead actor Manu will land on another big project titled 'Suhruthu'. In fact, the young actor has already started acting in this new movie which is a remake of the eighties classic 'Nidhra'.
Manu will appear in the role that Vijayakrishnan did in the original. Young actress Reema Kallingal will don the role of Shanthikrishna in the remake. The movie will be restructured to suit the new age audiences by Siddharth Bharathan, the son of the late director Bharathan.
'Suhruthu' will only feature seven characters including those played by K P A C Lalitha and Vijayaraghavan. Jassie Gift will be in charge of the music department while Vinoo Kiriyath will handle the script lines.
The movie will be produced by Jayesh Kuttamath in the banner of Kuttamath films.