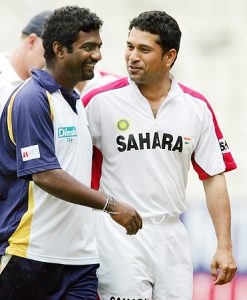 MUMBAI: After six weeks of endless rumination, there now lies before us a grand finale that lends itself to a plot whose ending is precariously poised on the invisible border between agony and ecstasy. Who will script the last word in the climactic contest of the World Cup: Muttiah Muralitharan or Sachin Tendulkar? On the final fortunes of their respective teams will rest this battle within a battle — the clash of the game's titans in cricket's quadrennial coronation ceremony. None will argue the greatness of either name. None will grudge either cricketer his glory. And none but the hand above could have conjured this setting: the last international outing for the sport's most successful bowler and possibly the final appearance in cricket's premier event for a legendary batsman.
Such has been the build-up to the dream prospect of Tendulkar scoring the hundredth century of his international career en route to capturing the one trophy that has eluded his illustrious credentials that even ICC chief executive Haroon Lorgat, whose position dictates that he be impartial, has broken free of those shackles to declare that that it would be "a fairytale ending" should the master batsman realise this unfulfilled ambition on home turf. Such is the respect that Tendulkar commands from his contemporaries in rival camps that Sri Lankan captain Kumar Sangakkara has assured Indian followers that his team does not intend to "spoil anything" while pointing out that the Indian idol's "hundred hundreds will add to expectations ahead of the World Cup final."
For Muralitharan, the last active man standing from Sri Lanka's champion squad of 1996, the call of honour holds equal allure. Indeed, this being his third tryst with the World Cup final, compared to Tendulkar's second, stage fright is not expected to affect his psyche; rather, the benefit of extra experience would have stoked his hopes of another title triumph.
The coldness of statistics reminds us that neither name has thus far made an everlasting individual contribution on the last stretch. If the bowling figures of Muralitharan in the 1996 and 2007 finals add up to 17-0-75-1, Tendulkar's 2003 knock ended with his score at 4. Nonetheless, as Tendulkar's broad bat squares up to Muralitharan's deceptive deliveries for a final confrontation, it is not so much the accruing numbers that will command attention as the prospect of a never-to-be-seen-again face-off that will be compelling. Rarely, if ever, in the history of cricket has there been such an instance of two men of such stature and adulation signing off simultaneously from a stage acknowledged to be the biggest in the game.