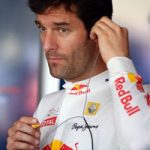 Paris: Australian Formula One driver Mark Webber admitted on Monday that his chances of lifting the world title last season received a huge blow when he drove the final four races with a broken shoulder.
The 34-year-old revealed in his book 'Webber up front' published by the BBC on Monday that his title challenge was hindered by the injury he suffered in a mountain bike accident prior to the Japanese Grand Prix in early October.
"On the Sunday morning before Suzuka, I got on a mountain bike for the first time since my accident in Tasmania at the end of 2008," wrote Webber, referring to the time he broke his leg when he came off his bike and was hit by a car.
"I was riding with a great friend of mine. Suddenly, he crashed right in front of me and I had nowhere to go but straight through the ears of the horse (bike handlebars)!
"I suffered what they call a skier's fracture to my right shoulder."
Webber – who would have become the first Australian since Alan Jones in 1980 to be crowned world champion – still finished second in Japan, behind Red Bull team-mate and ultimately champion Sebastian Vettel, thanks to the inclement weather and help from team boss Christian Horner.
"Suzuka is a brutal track so it was a blessing that the Japanese weather gave me an enforced rest day on the Saturday (when qualifying was rained off), and a pre-race (cortisone) injection helped, too," revealed Webber.
"In the end, we got through the weekend all right."
However, the rest of the season saw a decline in the straight-talking Australian's fortunes as the next race in South Korea saw him fail to finish, and his second spot in Brazil saw him go into the final race in Abu Dhabi behind two-time champion Fernando Alonso.
Both his and Alonso's chances, though, ended after both fell behind backmarkers after early pit stops and Vettel went on to win the race and the title, becoming the youngest ever champion.