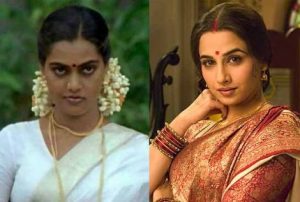 Silk Smitha needs no introduction to film fans for she was the heartthrob of most in the country in the 1980s and 90s. She toured all the south Indian languages and also made appearances in a few Hindi flicks. She is referred to as the 'sex siren' of Tamil cinema till date, yet, she awed audience in performance-oriented-flicks as well.
The actress is said to have killed herself at a young age of 36, due to depression and financial troubles.
Ekta Kapoor is making a Hindi film that unravels various controversies that surrounded Silk Smitha and the movie is titled 'Dirty Picture' where Vidya Balan dons Silk Smitha's role.
Tell us what you feel about the first look of the film and your views of Vidya Balan playing our very own Silk Smitha!