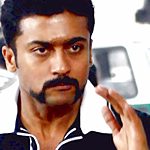 Director Hari has come out with a brief outline of the story of his forthcoming film 'Singam', which has Suriya playing the role of a police officer.
"Suriya plays Duraisingam, who is forced to enter the police force because of his father's wish. After joining the department, he starts loving his job," says the director.
He adds: "The silent and helpful person, who keeps to himself initially, reveals a completely different side of him when provoked by anti social elements. The remaining film is all about his transformation."
Claiming that the movie would be a mix of 'Samy' and 'Kaakha Kaakha', Hari says, "The script would never move too far away from logic. The song picturisations with Anushka are very good and should draw city audiences too."
'Singam' roaring up to release this May 28th. Get ready for cop action!