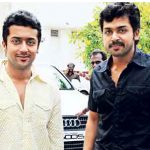 The 31st anniversary celebrations of veteran actor Sivakumar's educational and charitable trust proved to be high on emotion.
The trust provides educational aid to needy students and on the occasion, many students got emotional as they narrated tales of how they overcame the odds to pursue education.
Speaking on the occasion, actor Suriya said, "These kids are the real heroes. They have come so far with their hard work and determination to succeed. Karthi and I will do more films and earn more so that we can help them in a bigger way."
The highlight of the event was the release of the English version of Sivakumar's autobiography titled Idhu Oru Rajapattai Alle. "I hope students see me as a role model and a source of inspiration, since even I had to struggle for a proper education. I also hope the English version of my book will reach out to non- Tamil readers," said Sivakumar.
The book was released by Ilamparai Marimaran from Tuticorin. Sivakumar added, "Six years ago, Suriya's Agaram foundation joined hands with this trust. It continues to help first generation literates. This year, 55 students are being given aid along with five blind students, and a few students from Sri Lankan refugee camps in the state."
Here's one family that is dedicated to the welfare of the underprivileged people. Great going!