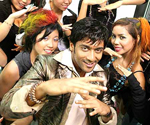 Tamil superstar Suriya pays a tribute to Raj Kapoor and Kamal Haasan with his Hindi-Tamil-Telugu trilingual 'Ezhaam Arivu', in which he plays a circus artiste.
"It's been decades since any film set in a circus was made. I can only think of Raj Kapoor saab's 'Mera Naam Joker' and Kamal Haasan's 'Appu Raja'. Suriya pays homage to both the actors. His commitment to the project is so complete he not only looks his part he feels as though he's part of a circus," said director Murugadoss.
For his role in the film, Suriya has been practising every conceivable circus stunt. He can now walk the trapeze, blow fire out of his mouth and juggle with six balls. In fact, the ball-jugglery has become the favourite part of Suriya's preparation for his role and he just can't get enough of it.
"I actually went and stayed with the Great Bombay Circus. Do you know there are only seven-eight circus companies remaining in the country? It's frightening how popular entertainment like television has ousted its traditional counterpart. I loved learning circus tricks specially jugglery. I don't want people to think it is special effects."
Now to prove to his audience that the circus feats they will see him perform on the film are not doctored, Suriya will go public with his skills.
Murugadoss, who's currently shooting with Suriya at a live circus in Coimbatore, confirms the actor's plans to hold a public performance of his skill.
"For the last six months Suriya has been trained by a circus veteran who came home to Suriya every day for a couple of hours of practice. Secretly Suriya has been learning all the ropes of being a complete circus artiste. His character is not supposed to specialize in one skill alone.
"Suriya had to learn everything that a circus artiste does. He specially loves the ball juggling. He has mastered juggling six balls simultaneously. He loves performing for his kids and friends," says the director who last worked with Aamir Khan in 'Ghajini'.
"Suriya will perform all his circus tricks live on stage at the music-release function for our film. He doesn't want his fans to think that the stunts they'd see him do in the film are special-effects. He has worked hard to learn the tricks and he wants the audience to appreciate it."