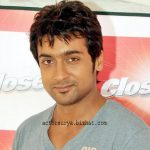 South Indian heartthrob, Suriya has been chosen as the brand ambassador of 'Close Up,' the first gel toothpaste brand in the country. This brand that has various offerings and a strong presence in both urban and rural areas in our country has signed Suriya as their brand ambassador.
The ace hero will be revealing his confidence secrets in a new campaign by Close Up. Sources say that this new campaign featuring Suriya as the brand ambassador will go on air by June and will reflect on how freshness and confidence can help one to maximize sudden opportunities that arise in their day-to-day life.
So what did the excited star have to tell about this endorsement? Speaking to the media, he said that, "It's an honor to be a part of the Close Up family. Close Up toothpaste has been a household name since my growing up years. I can relate to the brand's proposition of confidence and am truly excited about the new Close Up campaign. It's based on real life instances that showcase how life just surprises you anytime, anywhere and how it is important to be prepared and not caught unaware."
Associates in the brand feel that having a self-assured personality like Suriya will bring alive Close Up's proposition of 'confidence' among the users and users-to-be. The brand is constantly evolving innovative ways to resonate with customer's needs and having Suriya as the brand ambassador will familiarize the consumers about how fresh breath confidence states a lot about one's individuality.
Suriya going 'the Close Up' way is sure to inspire his fans throughout the country!