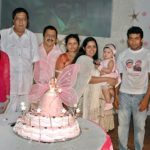 Suriya and Jyothika celebrated the first birthday of their son Dev in style.
The birthday bash was a very private affair, held at a resort on ECR. Dev's sister Diya arranged all the fun and games for the kids who attended the birthday party.
The actor who was the brand ambassador of CCL, was to have been at the inaugural of the first match at Bangalore along with Salman Khan, but skipped it to celebrate his son's first birthday.
However the actor made it and played the CCL's next match in Chennai where he captained Chennai Rhinos in its next match against Karnataka Bulldozers.
A very select group of friends like Udhayanidhi Stalin and Kiruthiga, Ajith and wife Shalini, director Bala and Hari, and immediate family consisting of dad Sivakumar, mom, sister and younger brother Karthi, along with Cousin Gjnavel Raja and his wife Neha were present on the occasion.