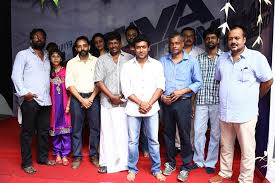 Actor Suriya has opted out of Tamil thriller "Dhruva Natchathiram", which was launched a few months back, as he felt that filmmaker Gautham Vasudev Menon was taking too much time to tweak the story.
"I only do films if I like the story. I quite liked Gautham's story, but requested him to tweak it a little. But I waited for six months and I still waiting. Unfortunately, my wait has ended in (vain), therefore I'm pulling out of this project," Suriya said in a statement.
"This is not the first time I have shared such an experience with Gautham. In the past, we launched another film called 'Chennaiyil Oru Mazhaikaalam'. We shot for a week and then I waited for another eight months before pulling out," he added.
"Dhruva Natchathiram" was launched in May. Menon had also cast few actors for the film and even shot a few scenes.
"I can't wait any longer as I feel Gautham and I are heading in opposite directions in our ideologies. I don't think I can work together with him," Suriya said.
Now, Suriya will start working on yet-untitled Linguswamy project from November onwards, while Menon is busy shooting his part for upcoming independent film "X", which features Rajat Kapoor in the lead.