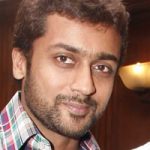 Actor Suriya is well known for his philanthropic streak and for promoting social causes. It was this dedication that led Rotary Club of Madras East ( RCME) to unanimously choose him to help them in their road safety campaign.
Speaking at the launch of the campaign today, Rotarian Kandasamy Bharatan of Kavithalaya revealed, " Suriya was the unanimous choice of RCME when we mooted the idea of making six short films to spread the message of traffic awareness and safety in association with the Traffic Police and the Automobile Association of Southern India ( AASI). Suriya was busy shooting for the mega project Singam, yet we received a spontaneous response from him and he said "it's a cause I appreciate and I will do it". He took an entire day off to shoot including dubbing time and did it absolutely free of cost."
Since Suriya was away shooting in Mumbai, a message from him was read out. In his message Suriya said, "A very close friend of mine from college lost his life in a bike accident. The doctor said his life may have been saved had he worn a helmet. I was shattered to see his kid and family. Perhaps they wouldn't have been in this situation if such a small precaution had not been overlooked.
Our lives are already hectic and most of us are racing to fulfil our professional and personal duties. The additional stress is added by long hours in heavy traffic on roads overflowing with pedestrians and vehicles all in a hurry to get to their destinations. But if we just pause for a few seconds and show consideration for our fellow road users, obey traffic rules which are for our own safety, avoid road rage, drunken driving, talking on mobiles, speeding and park our vehicles with consideration for others and wear helmets for safety, perhaps we could make Chennai a model city and a haven for road users. Let's pledge to show our consideration for fellow Chennaites."
The CD was launched by Shakeel Akter, Additional commissioner of police law and order who was the erstwhile traffic commissioner when the Rotary mooted the project last year. M Ravi the present additional commissioner Traffic was also present along with Rotarians Balaraman and WV Anand.
The six short films of 30 seconds each were shown to the CM last Friday and will be aired on TV and shown in theatres, schools and colleges apart from corporate institutions. Shakeel Akter revealed that 600 people in Chennai were killed in road accidents annually and 13000 in TN alone.
He stressed on the need for enforcement, engineering and education to improve the traffic situation. M Ravi added, "Enlisting the public's co operation and emergency action for relief during the golden hour are also important. 80% of victims are in the 18 to 35 age category and I hope this endeavour by Rotary and Suriya will raise awareness for the cause."