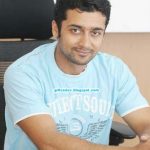 Actor Suriya has been officially announced as No. 1 in the Tamil film industry. KUMUDAM – the leading Tamil magazine of India has listed 10 topmost influential celebrities of Kollywood amongst which Suriya has been listed on No.1. The reason they have mentioned is that Suriya is the favorite of Box Office as his films from 'Pithamaghan' have done great business. Now all the distributors, producers and theatre owners are so happy about taking up his films.
Suriya's upcoming film 'Raktha Charitra' has done a marvelous business at global box office and the film's producers are so gleeful that none of their previous films did go for such a big show in overseas.
This is the main reason why Suriya's 7 AUM ARIVU will be made simultaneously in Tamil, Telugu and Hindi.