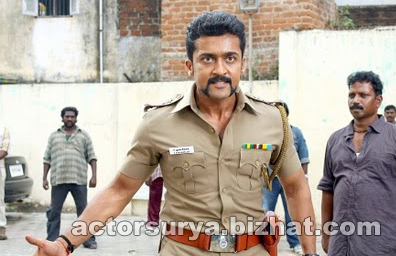 Singam – Experience the Lion's Roar
Banner: Sun Pictures, Big Pictures, Studio Green
Production: Kalanidhi Maaran, K.E. Gnyanavel Rajan
Story, Screenplay, Dialogues and Direction: Hari
Star-casts: Surya, Prakash Raj, Anushka, Vivek, Radha Ravi, Nasser and many others.
Music: Devi Sri Prasad
With most of the Sun Pictures' previous films turning to be mediocre, the expectations weren't actually more for this film 'Singam'. In spite of promoting the film to a greater extent, the audiences had perceived this film to be yet another mass commercial film. Of course, 'Singam' is one such film but with a different treatment.
Trust us! 'Singam' is the best film of this season as the duo combo Hari-Surya is back together with a hat trick now. Singam has more reasons to watch as the film goes inclusive of entertaining elements. You have everything you expect from a good commercial entertainer.
Good work by Hari as the director has carefully penned an interesting screenplay and catchy plot with lots of raciness existing throughout the show.
The film is yet another cat and mouse game between goodie and baddie, but with a different treatment.
Durai Singam (Surya), a sincere and good police in Nallore takes up this job mainly because of his father insisting him to do. But he is as keen on taking up the cases as a family affair and puts them to an end with his gentle gestures. Then there is cute girl Kavya (Anushka) along with her sister Divya (Priya) – daughters of topmost businessman (Nasser). Kavya falls in love with Singam for his acts and even he reciprocates it.
But then, trouble comes in the form of Mayil Vaaganam (Prakash Raj), a big shot in Chennai ruining the lives of people by demanding ransom money by kidnapping their children. The initial level of clash ensues in the transfer of Durai Singam to Chennai and the clash continues between two of them.
What forms next is Singam making sure that he puts an end to his bad activities.
Firstly, Hari deserves all praises for his outstanding nature of screenplay. Starting from the very first scene, the audiences wouldn't miss even a single shot as every scene is mind-boggling. Maybe, little heroism in lines and action sequences may get on for a disregard, but the fast-paced screenplay is really the best. Surya wins the appreciations as a mass-oriented cop. He is good at his mannerisms and proves himself as a commercial hero as well. Anushka, the hottie gets more scope to perform here unlike her other films where she used to appear for songs and later disappear.
Prakash Raj's yet another best show after Ghilli as he gets equally powerful role as Surya. At many parts, he wins claps and whistles for his lines and body languages. Viveks comedy tracks are enjoyable and the performances of Radha Ravi, Nasser and Nizhalgal Ravi is justifying.
Musical score by Devi Sri Prasad is fantastic and the song 'Kadhal Vandhale' wins the applause. Cinematography is good at parts and editing adds more speed to the narration.
On the flip side, the stunts sequences are bit unbelievable as Surya steps into the shoes of Vijay as they break stones and poles apart with their fist of anger.
But the second half has such an interesting screenplay that every audience would be on the edge of their seats.
If you're ready to bear few illogical factors like the stunt sequences, you will surely enjoy this film.
Make sure, you don't miss it as Singam can be the best treat for this summer. Sun Pictures should have released this film by April itself instead of preferring Vijay's Sura.
As of now, the film will win more profits than Surya's previous film 'Ayan' itself and Sun Pictures can be happy about it.
Verdict: Best Commercial Entertainer… Don't Miss It
Rating: 3.5/5
At Fan Speak section here is an oppurtunity for all surya Fans to write you own review about Surya's 25th movie Singam . You can also write what you like and don't like in Singam movie.