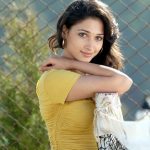 The hot and happening actor Tamannaah is a busy bee and she was all delighted when she got a lucky break, when her Thillalangadi shoot with Jayam Ravi directed by M.Raja, got cancelled.
The cancellation came about because the producers did not get permission to shoot in certain locations in Chennai city.
And what did Tammu do? She immediately took off to Mumbai her home town for this unexpected holiday and chill out.
By end of the month, she will be joining Ravi and the rest of the unit in Malaysia, where a major chunk of Thilalangadi is going to be shot.
Says Tamannaah: " I am catching up on sleep, reading and watching all the movies in town. Last night, I went with my friends for The Ugly Truth and the best thing I like doing during such breaks is to do nothing, laze around eating Khar Ka Khana(home made food) and chatting up with friends".