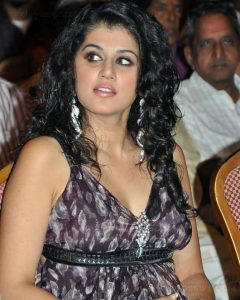 Young and beautiful actress Tapasi who has wowed film lovers with her debut film 'Aadukalam' seems determine to become a dedicated artiste.
The actress was seen in Kerala recently trying lo learn the traditional art form Katahakali, and that too for a Tamil film 'Vanthan Vandran', Jeeva is her hero in the film.
Tapasi is also making her debut in Malayalam with Sohan Seenulal's 'Doubles' in which sh has been paired with none other than Megastar Mammootty.
Tapasi is currently one of the busiest actresses in South India.