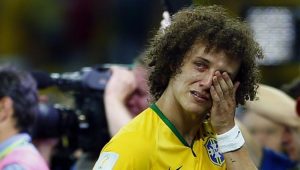 Belo Horizonte: Heartbroken Brazil captain David Luiz apologised to the nation on Tuesday after suffering a record 7-1 World Cup semi-final defeat to Germany.
"Apologies to everybody, apologies to all the Brazilian people," said a tearful Luiz after the mauling in Belo Horizonte.
"I just wanted to see my people smile. We all know how important it was for me to see all of Brazil be happy, at least because of football.
"They were better than us. They prepared better. They played better.
"It`s a very sad day but it`s also a day from which to learn."
The 7-1 drubbing was the worst defeat ever suffered by Brazil in their 100-year history.