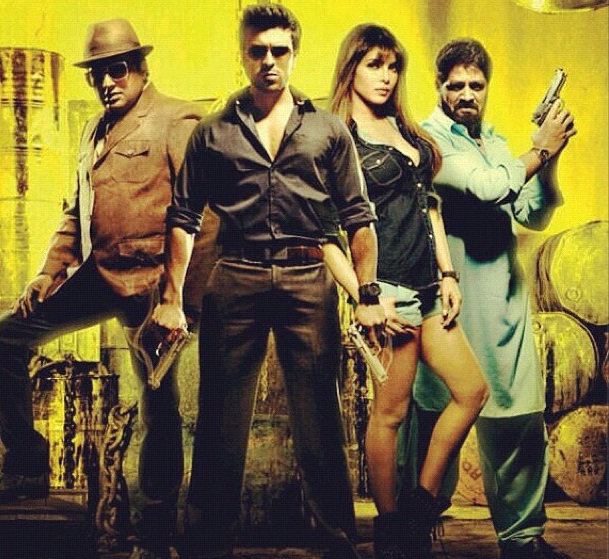 Movie : Thoofan (2013)
Star Cast : Ram Charan Teja, Priyanka Chopra , Srihari , Prakash Raj
Director : Apoorva Lakhia
Producer : Reliance Entertainments Babu
Genre : Action – Romance
Music : Meet Bros Anjan Ankit , Chirantan Bhatt , Anand Raj Anand
Released on : September 06, 2013
In the past, a few hit Hindi movies have been remade in Telugu and most of them were either slavishly reverent to the original material or misguiding by taking off into weird wild and wacky tangents. But Apoorva Lakhia seems to set everything right in his latest directorial venture Thoofan (Toofan), which is the remake of Amitabh Bachchan's 1973 Bollywood film Zanjeer. Ram Charan rocks again as angry young man.
Thoofan is an action thriller and Ram Charan Teja's electrifying performance is the main highlight in it.
Lakhia's interesting script and dynamic narration, Priyanka Chopra's glamour and humour, rocking music and background, brilliant picturisation, art direction and costumes are other highlights of the film. But the movie lacks a few masala elements to woo Cherry's fans and it has a predictable plot.
Sticking to the core of the revenge saga, Apoorva Lakhia has made some changes in the new version to suit the taste of present generation. The plot has a series of cleverly conceived conflicts and the director paces the proceedings as a rush-hour traffic of bustling events. The film has fast paced-narration right from the beginning to end and it does not let you stop for moment and think. There is special bond between Amitabh Bachchan and Pran in the original film, but this bonding is missing in the new version.
ACP Vijay Khanna (Ram Charan Teja) is an honest and upright police officer. While investigating a deputy collector's murder case in Mumbai, he faces off an oil mafia don Rudra Pratap Teja (Prakash Raj), who gets him suspended using his money and influence. With the help of Sher Khan (Srihari), crime reporter Jay Dev (Tanikella Bharani) and NRI girl Maya (Priyanka Chopra), how Vijay takes revenge against Teja will form the crux of the story.
Why should i watch it ?
Ram charan angry man show & Fights
Priyanka chopra Glamour and Oomph factor
Short run time that helped audience to quit a bored feeling
Prakash raj cool mafia don look
Why should i Skip it ?
Screenplay and Direction are not much attractive
Placement of songs and BGM are very bad , Especially "Mumbai ke Hero" song placement.
No entertainment
Songs and Music is a big Minus
Positive :
Ram charan first Bollywood movie and charan's action style is more attractive to mass section of Bollywood. South styled films are very much popular for Bollywood success rate. Priyanka chopra glamour show will attract few sections of South. Ram charan has done few mind blowing action stunts which are dare devil risks, these action sequences will bring back audience back to theaters.
Negatives :
Zanjeer is already a remake of it's old story , routine story line may disappoint a bit. Bollywood will always compare Ram charn with Amithab bachan who is first hero of this Zanjeer old film, comparing with him may risk this film and ram charan. Complete film depends only on screenplay if that section fails then output too fails. Priyanka chopra is not much familiar to south audience and major problem is will political issues in state allow Zanjeer to touch screens.