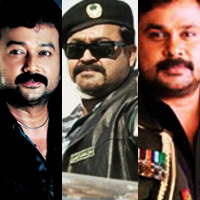 With the coming up of school vacations, more and more films are getting released every week, which has made the Mollywood B O, a busy place. But none of the films in the theatres are able to guarantee cent percent collections, though there are also a couple of multistarrers in the offering.The top five movies of the weekend are:
1.China Town'-The movie made a very good opening in the first few days, but opinion about a poor second half has made the viewers loss interest in the flick. Anyhow, Chinatown, a multistarrer featuring Mohanlal, Dileep and Jayaram is enjoying a reasonably safe ride with 60-80 percent collections in major centres. The movie may bring back the 9 crores spend on it, in the long run. The movie which opened in 100 centres now survives in 67 stations.
2.Urumi'-The multistarrer epic from Prithviraj still holds nerves and continues in major centres. The big budget visual magic is still in 28 release centres in its 6th week.
3.'Chrsitian Brothers'-Another multistarrer with Lal, Sureshgopi, Sharathkuamr and dileep is enjoying its hassle free run in its seventh week. The movie by Joshiey is expected to complete 50 days in 27 centres, of which 11 has reduced the shows to a couple or single shows.
4. 'City of God and Doubles'- Both the films are dismal failures in the Box Office. In fact 'City of God' is the biggest commercial flop from Prithvi in recent times, as the the movie released in more than 50 centres will find it hard in eight centres in its third week.'Doubles has a similar story to tell and will be seen only in 12 centres in its fourth week.
5 'Bhakthajanagalude shraddhakku' and Lucky jockers'- the first commercial movie from Priyanandhanan has bagged good reports from masses and critics, but poor promotion will make it harder for the movie to become a big hit.'Lucky Jockers', the first movie from Aascar films had a fairly good weekend but may find the goings tough, due to its little quality content. The coming weekend will have a few more releases in the form of 'Seniors', 'Manikyakallu', and 'Reghuvinte Swantham Raziya'.