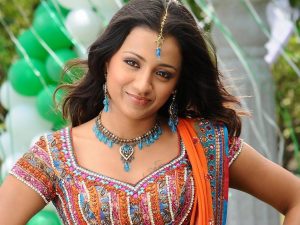 Trisha, the most downloaded acSome kinds of news are hard to swallow but then numbers do not lie. Recent numbers say that Trisha Krishnan has beaten even the three Khans – Shahrukh, Salman and Aamir emerging as one of the most downloaded actors on mobile phones in 2012. Well, South India has shown a strong liking for imagery, with pictures of Trisha seeing downloads 325 per cent higher than the numbers seen for the top five Bollywood actors put together including the Khans. Of course it is also a fact that men outnumber women by a huge margin so it is no surprise that pictures of women beat those of men.
Shahrukh Khan led the category of Bollywood actors' wallpaper downloads, with Salman Khan, Ajay Devgn, Akshay Kumar and Ranbir Kapoor in the top five. Aamir Khan did not fare in this list for the third year in a row.
However, it is Katrina Kaif, who has become the highest downloaded celebrity on mobile phones in the year 2012. She has seen off competition from Kareena Kapoor and Priyanka Chopra and Trisha to emerge as the most downloaded celebrity on mobile phones in the year 2012. The 'Ek Tha Tiger' star continued to maintain the leading position in the category of images downloaded for the fourth consecutive year, followed by Kareena, Priyanka, Anushka Sharma and Vidya Balan.
Popular song 'Kolaveri Di' continuedto maintain the top position in 2012 as well. Though reasonably popular, the worldwide rage 'Gangnam Style' did not experience similar success among mobile Internet users in India and could not beat 'Kolaveri Di's' strong local success. The song 'Teri Meri' from 'Bodyguard' ranked second in this segment, lagging behind by 20 per cent. 'Dabangg' topped the charts as the most viewed movie on Airtel Video Talkies, while 'Singham led on Airtel Audio Talkies. The epic 'Sholay' continues to be an all-time favourite with customers, who till date, are still tuning into the audio edition of the movie on Airtel Audio Talkies.tress on mobile phones in 2012