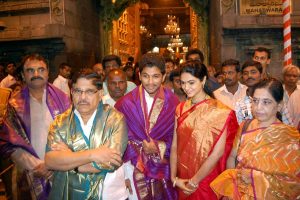 The recent tsunami havoc in Japan, triggering panic among many countries on the Pacific coast, has hit honeymoon plans of newlyweds Allu Arjun and Sneha Reddy.
The celebrity couple had actually made plans of spending some quality time in Indonesia and a few other beaches around but with the tsunami alert, they decided to cancel their trip.
"Our chosen destination was Indonesia and the plan was then to move around the nearby exotic beaches but we had to drop it due to the tsunami alert," says Allu Arjun, who had kept 10 days aside for his honeymoon before joining the shooting for Badrinath from March 21. After the tsunami alert, the Indonesian islands reported high tidal waves.
The couple is now on an alternative plan. "We are planning to go to Europe for a couple of days but it all depends on getting the visa and other travel documents ready in a short notice. I`ll try my best to fly off with my wife to get to know each other better," he adds.
On a lighter note, the onscreen lover boy claimed to have been flooded with SMS from actresses and girlfriends after tying the knot. "Some of them sounded disappointed," he smiles. "But I can`t share those names with you."