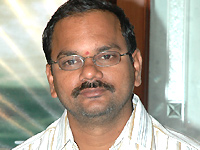 Well, don't come to the conclusions reading the headline that it is the remake of Bollywood hit 3-Idiots. No, but director V.N.Aditya has just titled his own script as 3-Idiots being made under Suresh Productions banner.
Movie Moghul Dr.D.Ramanaidu will produce the film and the film cats Navdeep, Rahul of Happy Days fame and Srinivas Avasarala of Asta Chamma as the male leads while Sradha Das, Sanjana, Soumya will play the leading ladies. Reema Sen and Shivaji will appear in cameos in the movie. The movie is a romantic comedy entertainer which will be in the lines of Bollywood films Welcome and Thank You. Major schedules of the movie will be shot in Malaysia and Hyderabad.
An official announcement of the film is expected soon. Stay tuned for more details.