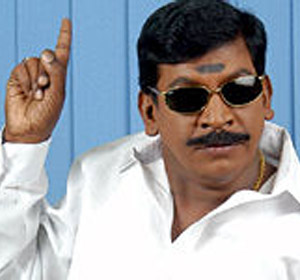 Vadivelu made an emotional appeal to voters to exercise their franchise in favour of the ruling DMK-led alliance, during the last day of the campaign at Rishivandiyam Assembly constituency on Monday.
The comedian, who was unable to control tears while talking about the plight of a young boy, said in an emotional tone, "Many such poor students are able to get education now thanks to Chief Minister M Karunanidhi."
Rishivandiyam is where DMDK president and Vadivelu's bitter rival Vijayakanth is facing the Assembly polls. Hence the former chose to end his campaign there, by seeking votes for Congress candidate.
As usual, he continued to level charges against the 'Captain', saying that he had failed to keep up the promises he made at Vridhachalam, from where he was elected to the Assembly during the 2006 polls.