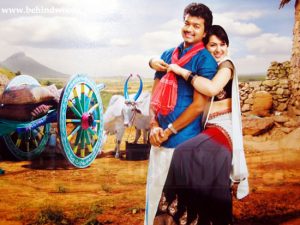 The buzz is getting bigger for Vijay's Velayudham.M Raja the director of the film in an interview to a newspaper said: "Velayudham will be a non-stop rollicking mass movie with all commercial ingredients packaged to provide maximum entertainment. 85 per cent of the film is complete."
Raja added that the producer, Aascar Ravichandran, has spent lavishly on it to make it rich. For one particular song, he spent nearly Rs 2Cr.
The director said out of five songs two more remain to be shot, which will be done in Europe in May/June.
Meanwhile the trade feels that Velayudham will not make it for Vijay's birthday (June 22), as the post production work will take time. A more realistic release date for the big budget bonanza would be around
August 15.